Express Your Style
Countertops are an essential part of your kitchen or bathroom. If you're looking for a material other than laminate, Cambria Quartz is the perfect solution.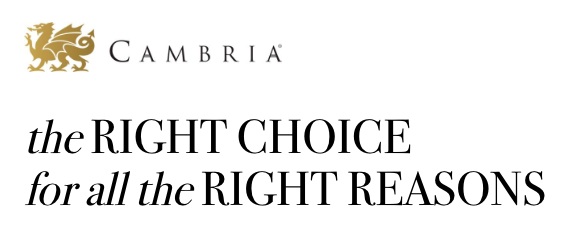 THE LEADER IN DESIGN INNOVATION
Cambria® leads the industry with the most diverse and innovative designs to choose from for your material selection. Cambria also offers both Cambria Matte™ finish and high gloss finish to expand your creative options.
THE NATURAL CHOICE
Cambria is created from pure, natural quartz, one of the hardest minerals on earth, for superior durability and performance.
SUPERIOR PERFORMANCE
Cambria natural stone surfaces are scratch resistant and never need sealing or polishing—simply clean with warm water.
A HEALTHY KITCHEN
Cambria is nonporous so staining liquids and harmful bacteria are never absorbed.
ENVIRONMENTALLY FRIENDLY
From responsible mining to recycling all the water used during processing, Cambria is dedicated to preserving our environment in every way possible.
AMERICAN CRAFTSMANSHIP
Cambria is hand crafted from start to finish to ensure the highest quality down to the smallest details.
SERIOUS ABOUT SERVICE
A carefully selected network of partners whose ideals match ours ensures premium service, the best experience, and your complete satisfaction.
FAMILY OWNED, AMERICAN MADE
With a rich heritage in Minnesota, Cambria is the leading family–owned, American–made company in the natural stone industry.
FULL LIFETIME WARRANTY
Exceptional products enable Cambria to confidently guarantee your peace of mind for life.
Make your Cambria® dream kitchen a reality
With Finance by Cambria, you can bundle virtually everything together for your kitchen, bath, or other remodel project. Just start with beautiful Cambria natural stone surfaces, then add other interior remodel products and services we offer. With convenient payment plans to match any budget, Finance by Cambria makes it easy and affordable to start your dream project today.*
Get Started Today
Don't put off until tomorrow what you can afford to remodel today! Finance by Cambria is offered through select Cambria partners throughout the country. Contact us today to qualify for up to $75,000 in less than 10 minutes and make your dream kitchen a reality.
*Finance by Cambria® is available for residential property remodel projects using Cambria natural stone surfaces. Ask your Cambria dealer about which options are available and the information you need to apply.